Why You Need to Become a LinkedIn Thought Leader
Subscribe
Our thoughts, your inbox, every month.
I've never believed in "selling." I've never been one for all the hard-hitting aggressive sales strategies: the hard sell, arm-twisting that we're all too familiar with.
What do I believe in, then? I believe in relationships built on trust. We're more likely to do business with people we know, like, and trust. So my priority is always on putting in the work to build those relationships.
Today, business leaders become "thought leaders" for much the same reason. They're moving away from aggressive "selling" and toward relationship building. This article, contributed by one of our trusted partners, helps explain why this approach is so successful, and how to do it right.

Fran Tarkenton
Founder & CEO, Tarkenton
It's no secret that thought leadership is one of the most popular strategies for growing your business. But what are the secrets to doing so effectively without creating a new full-time job for yourself? By following a few simple guidelines and using the tools and reach available today, becoming a true thought leader is more affordable, accessible, and attainable than at any time in history.
Social media – the modern world's central driver of marketing and name recognition – is your thought leadership portal. Here are some helpful strategies and guidelines to get started.
What Role Does Thought Leadership Play?
Education counselors lament how students must choose from thousands of college majors when they don't yet know what motivates, inspires, or interests them. As we covered in a previous newsletter, today's young people (to their credit) are likely to spend more time doing research before they make major purchasing decisions.
The same is true for business folk: they're wary of the power of marketing, and they spend a lot of time seeking information and solutions on their own. They turn to peers and networks, often through social media, but they have a healthy dose of skepticism when they encounter marketing or sales reps. They're more likely to learn about solutions from thought leaders they encounter online.
The objective of thought leadership is to become viewed as a trusted and knowledgeable expert in your field. That starts when you step into conversations – as one human being helping to educate another, rather than as a vendor.  Even if you represent an established brand, the aim is to share valuable knowledge and information with people who could eventually turn into customers.
Here's a relief: thought leadership does not involve selling, or moving straight into conversations about products or solutions. Even if you perform the role(s) of sales and marketing at your company, you can put them on the back burner for now. Leave direct marketing where it belongs, and focus your thought leadership on offering value.
Thought leaders stay focused on three things: raising their profiles, enhancing their reputations, and building relationships online. They foster credibility, earn trust, and establish themselves as leading authorities, sometimes by spurring the discussion and other times by adding their two cents to enhance it.
Why Your Business Should Be Thinking Out Loud
Which is better: to chase cold prospects, or to welcome warm ones? Your pathway to growth always hinges on the number of people who regard your brand as a trusted source for the product or service you provide. Thought leadership is a great way to increase that number. It puts a human face to an organization, so prospects can get a feel for the culture and character of a potential vendor.
If you're constantly being invited to speak on panels, deliver keynotes, appear in media, or write op-ed pieces, you'll outrank competitors in the eyes of your potential buyers. But those invitations often depend on building your reputation as a thought leader. From the perspective of filling a sales pipeline, thought leadership is a game of recognition, so, if you prefer to remain anonymous, your potential customers will struggle to recognize you.
Thought Leadership on LinkedIn
If you're looking for B2B and SaaS decision-makers, you have a disproportionate chance of capturing their attention on LinkedIn. With nearly 1 billion (mostly professional) users and a 50% active rate, you are bound to find plenty of people who fit the profile of your avatar: managers, directors, and executives.
Becoming a thought leader starts with individual, one-to-one connection. Do it as a person, first. Before you can introduce your brand as a solution, take time to talk to people, just as you would in real life. Remember to leave direct marketing at the door; don't sell or discuss products / solutions before the appropriate time.
LinkedIn is designed for open interaction. Unlike a real-life setting, social threads are public conversations. If you have something meaningful, helpful, or clarifying to say, then say it. Optimally, you should do this on threads where your avatar prospect is an active participant. Clarify in advance on who you want to interact with … find the conversations they're in … and join them.
Commenting on others' posts is an easy first step in becoming a thought leader. For example, you can enhance a conversation by asking for further detail, based on what someone has already shared.
Let's say you own a commercial law firm, and you're interested in getting acquainted with a building contractor who posted a photo of their latest project.
You could inquire with the contractor about how the permit process went. If that person replies to share what a lengthy ordeal it was, you could spill the secrets you've learned that make obtaining permits a shoe-in. You'll learn soon enough, if that contractor follows your advice, how much they appreciated your perspective and willingness to share. It will increase the likelihood that when the time comes to do formal negotiations, you will be on that contractor's "short list" of preferred legal vendors.
The other side of interaction is content, whether you create or share it. Some thought leaders take advantage of LinkedIn's "newsletter" feature. It automatically generates a promotional e-mail to subscribers every time you publish an article. Others go "live" and broadcast interviews or webinars, which also triggers notifications to your audience. Video content remains highly compelling on all social media; it gives viewers a clear glimpse into how you think and handle yourself.
The good news is you don't need to turn content creation into a full-time job. Create one long-form piece of content (podcast, video, or in-depth article) and then break it into smaller chunks that you can use over time. This way, one source of content can translate into multiple posts on LinkedIn, posts you can also recycle when a topic becomes relevant again.
Sharing content created by others also relieves pressure to come up with your own. You can be present daily on LinkedIn by sharing and commenting on others' posts, mixed with a dose of your own original work. A ratio of 1:2, original versus shared content, allows you to focus on substance and simplicity in what you publish. But even when you comment on someone else's post, be sure to include some value of your own. That's key to thought leadership.
(Pro tip: before you share others' content, take time daily to engage and comment with their posts. This increases the likelihood LinkedIn's algorithm will serve your original content to your intended audience.)
And remember to promote your brand's presence. Create company pages and use them as "promotion" portals for the content you create and share. If you give an inspiring two-minute talk on LinkedIn Live, make sure your business page shares it. As the audience on your personal page grows, invite them to follow your business page and interact with your brand.
Tarkenton can help you grow your business with thought leadership, from the point of "launch" to the point of "leverage." Schedule a complimentary call with a member of our business development team today.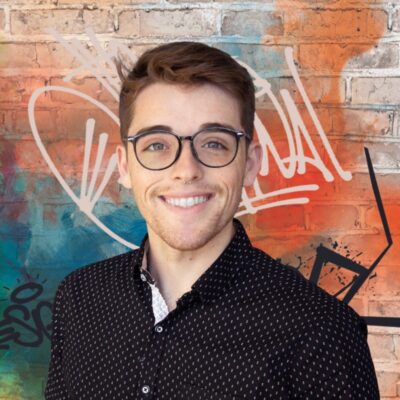 Evan Johnson
Strategist, Liger
Evan Johnson is a Strategist at Liger, where he works across different client's internal and external marketing initiatives to shape and execute strategies to drive brand awareness, market voice, and informational authority.